Kate Moss Velvet Hour
Beauty Byte: Kate Moss Wins Big at The CEW Beauty Awards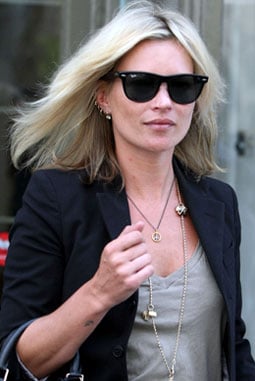 On Monday morning at the fourth annual Cosmetic Executive Women (CEW) Beauty Awards in London, the 27 winners were finally announced! The votes were cast by over 400 CEW UK members and 301products were entered this year. Boots was the sponsor and Harrods is going to showcase the winning items on 26th April to 1st May for all to see.
A number of my favourite brands took home first prize, but one that I know you are especially fans of is Velvet Hour by Kate Moss. The model's musk snagged the award for Best New Women's Celebrity Fragrance!
To read the complete list of winners and to see more pictures of Kate walking around sunny London celebrating yesterday, read more.
Best New Organic Skincare Product (Prestige): Neal's Yard Remedies White Tea Enriching Facial Mask
Best Iconic Beauty Product (Mass): Elizabeth Arden Eight Hour Cream Skin Protectant
Best British Brand (Mass or Prestige): Neal's Yard Remedies
Best New Hand and Nail Care Product (Mass): Leighton Denny Expert Nails Crystal File
Best New Women's Celebrity Fragrance (Prestige): Kate Moss Velvet Hour
Best New Women's Fragrance (Prestige): Chloé Eau de Parfum
Best New Women's Fragrance (Limited, Prestige): Miller Harris Le Petit Grain
Best New Men's Fragrance (Prestige): Dolce & Gabbana The One for Men
Best New Everyday Skincare Product (Mass): Soap & Glory Glow Job
Best New Everyday Skincare Product (Prestige): Clinique Superdefense SPF25 Age Defense Moisturizer
Best New Anti-Ageing Skincare Product (Mass): Tri-Aktiline
Best New Anti-Ageing Skincare Product (Prestige): Estée Lauder Perfectionist CP+ Wrinkle Lifting Serum Corrector for Lines/Wrinkles/Age Spots
Best New Bath & Body Product (Mass): St. Tropez Everyday Body
Best New Make-Up Product (Mass): Max Factor False Lash Effect Mascara
Best New Makeup Product (Prestige): Estée Lauder TurboLash All Effects Motion Mascara
Best New Bath & Body Product (Mass): Soap & Glory Scrub Actually
Best New Haircare or Colouring Product (Mass): Tommy Guns Blueberry and Ginseng Shampoo
Best Classic Beauty Product (Mass): Aussie 3 Minute Miracle Reconstructor
Best Classic Beauty Product (Prestige): Clinique Airbrush Concealer
Best New Brand (Mass): Tri-Aktiline
Best New Brand (Prestige): Sarah Chapman Skinesis
Best New Men's Grooming Product (Mass): The Refinery Shave Foam Gel
Best New Men's Grooming Product (Prestige): Clinique Skin Supplies for Men Age Defense Hydrator SPF15
Best New Styling Product (Mass): L'Oréal Paris Elnett Diamond Hold and Shine
Best New Professional Haircare Product (Prestige): Shu Uemura Art of Hair Satin Design White Tea Polishing Milk
Best New Sun Product (Prestige): Sisley Sunleya Age Minimizing Sun Care SPF15
Best New Sun Product (Mass): Nivea Sun DNAge Cell Protection Anti-Ageing Face Sun Cream SPF30