Kate Winslet Denies Airbrushing Rumours on Cover of Vanity Fair
Kate Winslet Denies Airbrush Rumours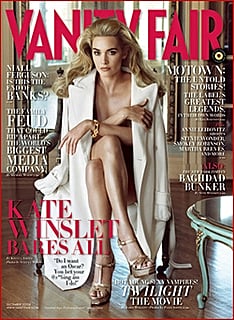 Actress Kate Winslet has rubbished claims that she was digitally enhanced for her Vanity Fair photo-shoot. She has previously lashed out at the over-zelaous airbrushing and magazines that claim she's not happy with her curvaceous figure. Kate always appears to be refreshingly down to earth, but it certainly seems like she's making something of a furore over this issue.
The British actress looks gorgeous on the cover and inside the December issue of the magazine. With big, blow dried hair and a chic cream coat Kate appears to be channeling Catherine Deneuve in Belle de Jour. Kate's rep told People magazine that "Kate is furious at suggestions that her body has been airbrushed". I have to admit her legs in particular look extremely coltish but according to her publicist that's down to a rigorous exercise plan. "She is in terrific shape and what you see is how she looks or she would never have agreed to pose for those shots" the rep confirmed.
The 33 year old star is also a mother of two and although Kate is adamantly against airbrushing, I have confess that personally if I was going to be a cover star, I'd definitely be tempted to go for a little digital help. How about you, would you want to be airbrushed if you were on the cover of a glossy?