Katie Price Fragrance
Katie Price and Her Precious Love
You may think that I'm talking about Alex Reid, Princess, Harvey or even Junior, but actually, Precious Love is the name of Katie Price's third and newest woman's fragrance. On the heels of her You Only Live Once book tour, Katie has decided to release her light, floral and musky scent which was inspired by romance (— hold the comments please)!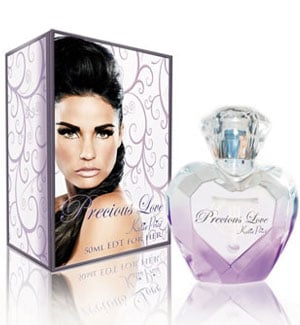 That's right, despite a rocky past, Katie is focusing on her future with Alex and has always had a soft spot for love stories and tender moments. Precious Love pays homage to all things love.
The fragrance contains a mixture of lime, greens, musk, jasmine, white rose, palisander, amber, vanilla, benzoin and cotton. The bottle is shaped like a purple heart and is topped with a diamond cap. Also, on the inside, there is group of transparent letters containing the initials of her children — awww. I have yet to test out the new juice to see how it suits me, but I'm definitely interested.
Precious Love is available in 30ml (£18.99) and 50ml (£25.50) Eau de Toilette bottles and in a Gift Set with body lotion (£30). Will it be on your wish list this holiday season?