Katy Perry Halloween, Halloween Ideas, 2009 Halloween 2009-10-23 05:00:00
Halloween How-To: Be A Pop Star Like Katy Perry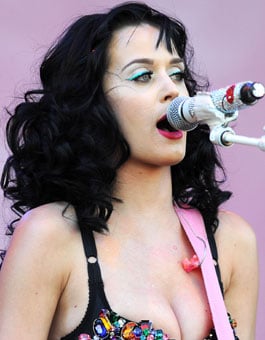 It's getting into Halloween crunch time now with just eight more days until kickoff, and my Sugar pals are in full goul and goblin mode. To add to the fun, I've got another rock star Halloween how to for you to consider.
Yesterday we sure had some fun (didn't we), getting into full makeup mode as Lily Allen in concert. As it turns out, Katy is one cool cat too. I absolutely love her look from this year's V Festival, especially her electric sea-foam green metallic eyeliner that she's paired against pale skin and bright pink lipstick.
If you're interested in recreating her Hylands Park look at home, just shop the look below and play away!