Keep Blonde Hair Looking Bright!
Keep Blond Hair Looking Bright!
Wowza, when I saw these photos of Gwyneth Paltrow and Paris Hilton that were taken yesterday, my mouth began to salivate with jealousy over their shiny and bright blond hair. There's just something about having light hair in the summertime that catches my eye. If you go darker in the sun, there's a chance that your beautiful brown shade will oxidise to a red colour; if you go red, you risk turning orange. It made me think the grass is always greener: unless you're a totally natural blonde, you've got the worst type of high-maintenance hair to maintain. So if you're going to spend that kind of time and money on yourself, follow these three tips to keep your blonde bright!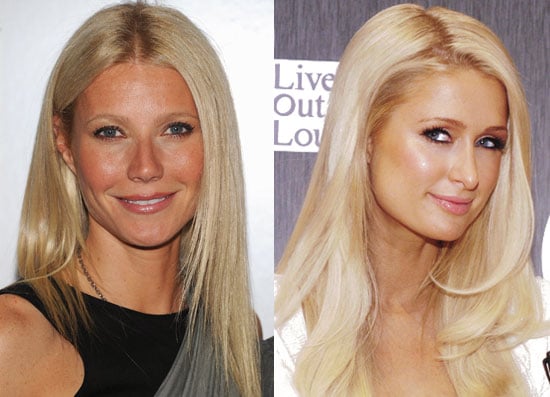 Is Your Water Too High in Iron?: If your bath or shower water has too much iron in it, your hair could turn from blonde to a reddish brassy tone in no time flat. Check your water supply for iron and simply add a water softener to your filter if necessary. *FYI, washing your hair with Evian or other bottled water, is not necessary.
Keep Your Hair Conditioned: Bleach tends to strip hair of moisture, so before it becomes too dry and brittle, deep condition it twice a week and be sure to use a moisturising conditioner every time you wash your hair.
Use a Purple or Blue Shampoo: Since purple is the opposite colour to yellow on the colour chart, a blue- or purple-toned shampoo will help keep your hair colour bright and brassy free. There are even purple styling products on the market now for blond hair that have a violet tone in them. Try John Frieda Sheer Blonde Colour Renew Styling Mousse (£4.19), and see what you think!