Kelly Brook Launches New Perfume Vivacious With Selfridges. Photos.
Kelly Brook's Vivacious Scent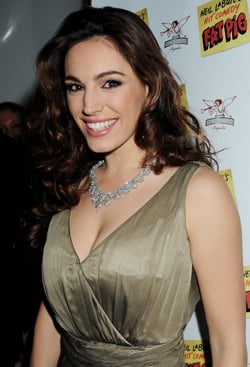 Actress and TV presenter Kelly Brook is certainly getting a lot of attention lately. As well as acting on stage in her new play Fat Pig the British brunette is now to sign a six-figure perfume deal. Kelly looks set to be capitalising on her unique brand of charm; she has that down to earth personality and super pretty girl-next-door appeal that endears her to both men and women.
Her new scent is entitled Vivacious and combines notes of rose, raspberry vanilla which sounds quite yummy, if a little on the sweet side. Kelly is also in talks with Selfridges regarding distribution, which implies she's going for a higher end market than her last perfume,
which was only available at high street store Superdrug. Kelly told the Mirror, "I wanted a fragrance that looks demure and sophisticated on the outside but is sexy and ultra fun on the inside."
The perfume will launch on 31st October. It will retail at an affordable £18.95 for 50ml. Watch this space for a review of Kelly's new fragrance.