Kerastase Introduce New Sexy Scalp Care Hair Care
Kérastase Makes Scalp Care Super Sexy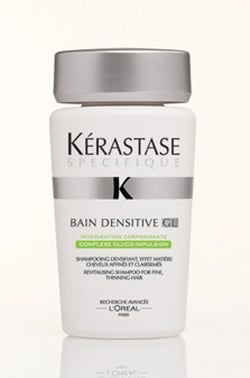 Having great hair is undeniably sexy. Thinking about your scalp or even just the very word — scalp, somehow isn't. Yet without a healthy scalp, that glossy gorgeous shampoo-ad mane will never be yours. I've been following Philip Kingsley's top tips for a healthy scalp for the last few months and I have to admit my hair has never looked better. Now Kérastase is getting in on the act, with a brand new range that focuses on getting to the root of any hair problems.
Specifique is the name of the luxury hair care brand's newest line. It will be targeting all that comes with this quite unsexy area of haircare; dandruff, oiliness and thinning hair. However, Kérastase is looking to add a touch of glamour to the range; aiming to make taking care of your scalp as appealing as having a blow dry in a swanky salon.
For what to expect from the new range, just read more.
"We have this opportunity to make (this area) gorgeous as if we were introducing any other Kérastase range. Our idea is a beauty ritual for the scalp with specialist tools," Shane Wolf the vice president of L'Oreal's Prestige Professional Brands division told WWD. "We are not walking away from the Kérastase tradition of luxurious targeted care for the hair."
They'll be an updated range for the US and UK, including two antidandruff shampoos targeted for oily or dry scalp conditions. The dry scalp item uses pyrithione zinc, silicone and cationic polymers in formulas to gently clean the scalp and eliminate symptoms of dandruff. The oily scalp version uses a similar formula minus glycerol and cationic polymers. There's also a conditioner that's designed for oily scalp sufferers and those with dandruff, called Fluide Purifiant.