The Key to Your Aging? It's All in Your Face Shape!
The Key to Your Aging? It's All in Your Face Shape!
Thought your face shape was just about aesthetics? Apparently not! Reports emerged this week suggesting that it can actually affect the way your skin ages! Oval shapes, like Julia Roberts' and Kate Hudson's, tend to hollow at the temples and cheeks as they age. Meanwhile, heart-shaped faces, like Madonna's and Kirsten Dunst's suffer from loss of support in the upper forehead causing drooping around the eyelids. There's a whole host of specific characteristics that affect each, and that need to be combated differently. Fascinating!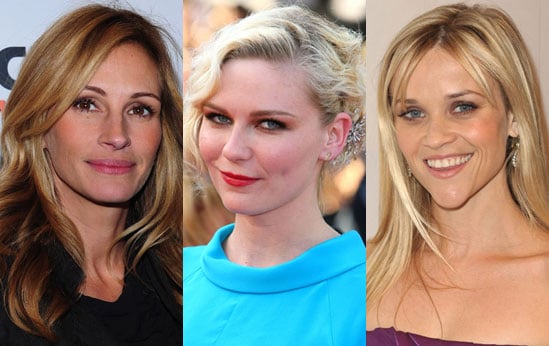 To hear more about your face shape and how it affects YOUR ageing, just read more.
Faces fall in to four categories roughly: Oval, round, heart-shaped and rectangular, all with different fall-backs.
OVALS: Ovals, like Julia Roberts, suffer from both hollow temples, premature crow's feet and loss of cheekbone definition. The solution? Well you can have surgical treatments to help this, such as fillers, but simply using a great eye cream will help. There are also a range of great plumping products (£36) out there which can restore fullness.
ROUND: Celebrity examples include Kirsten Dunst and Emma Bunton and their main problem is that they store fat in the cheek area, meaning that as skin ages these become more pronounced and the lower jaw area seems gaunt. The most radical fix for this is a face lift, but experts also suggest massage and lymphatic drainage to help tighten the lower face.
HEART SHAPED: These belong to people like Reese Witherspoon and Madonna. Their forehead is the key area and can be helped by Botox injections. There are also targeted moisturisers that help fine lines in the area.
RECTANGLE: Think: Sarah Jessica Parker and Angelina Jolie. Their main issue is with loose neck flesh and heavy jowls. The best way to combat this is exercise, moisturising your whole decolletage as part of your routine and using tightening anti-aging products on your face.
Which face shape are you?