Kylie Jenner's Exposed Lip Kit and Taylor Swift
Is Kylie Jenner Sending a Secret Message to Taylor Swift Via Lip Kits?
After Kim Kardashian posted a video proving that Kanye West called Taylor Swift to get her approval on mentioning her in his song "Famous," social media blew up with the hashtag #KimExposedTaylorParty. Amidst the drama of these four trending words, Kylie Jenner posted an image of her "current favourite" Lip Kit, simply captioning it "#Exposed."
While many would think that the star is merely adding a hashtag to the colour's name, her fans are convinced that she's throwing shade at Taylor Swift.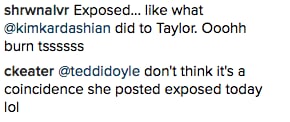 Other fans think Kylie Cosmetics should make a green Lip Kit completely inspired by Taylor and her claims of character assassination. Considering the Kardashian family's propensity to aggressively defend each other against any haters and Kylie's penchant for unusual lip colours, this "Snake" shade isn't out of the realm of possibility.
Kylie Jenner's new shade, inspired by Taylor Swift. pic.twitter.com/TEaIo7caYQ

— ً (@robynsfentty) July 19, 2016