Lady Gaga and Cyndi Lauper for Mac Viva Glam Talk about HIV and AIDs
Lady Gaga and Cyndi Lauper Launch Viva Glam in UK
Yesterday, I was lucky enough to attend a talk between the two new faces of MAC's Viva Glam project, Lady Gaga and Cyndi Lauper as moderated by Sharon Osbourne. The two fun singers spoke animatedly about the new lipsticks which have been launched to raise money and awareness of HIV and AIDs. Viva Glam has already raised more than $160 million, but Lady Gaga knows that it's about more than that. She explained how important it is to raise awareness of the disease, especially amongst women who are now the largest group of sufferers adding that it's "not a gay disease".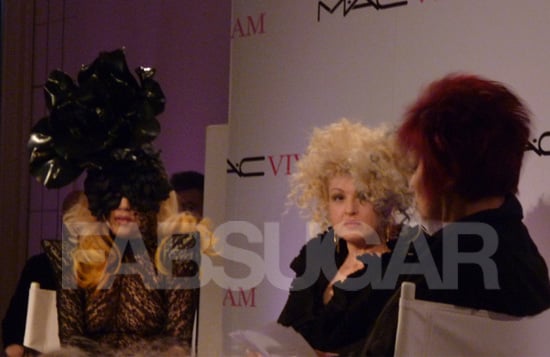 She stressed that it was important to "wrap it up" when having sex and admitted, "I, for myself, make the choice to be single at this point in my life because I don't have the time to get to know anybody. And you know what? It's OK. Even Lady Gaga can be celibate." Cyndi was also passionate about the cause and said that buying a gorgeous lipstick could make you feel better about yourself. "Love yourself and then you can love others," she said. The two colours on offer were chosen by the stars and both represent their own taste. Cyndi explained her coral-red shade, "I wanted a deep red, but they said that won't sell. So I said, make one that will sell! It is a versatile shade." Lady Gaga meanwhile went for a pinker shade, "I used to wear pink nouveau and I felt good about myself, so I wanted something similar to that."
To see more photos from the event and to see a video of their discussion, just read more.