Lancôme's Autumn Declaring Indigo Collection
Declaring Indigo Totally Blue Me Away
New for Autumn 2009 is the Lancôme Declaring Indigo Collection created by famed and funky makeup artist Aaron De Mey. It consists of fifteen new colours and two brushes with a definitive, bold and courageous yet wearable palettes of electric blues, golds and reds. It was inspired by Brigitte Bardot and Simpone de Beauvior, French women with a spirited and sexy, unconventional style. According to a press release, De Mey said,
"My favorite colors are pure, saturated, powerful shades that work fabulously on their own. The colors I chose for the collection, indigo and red, are intense, primary colors, emblems of Paris and the French Revolution. I will always remain faithful to the colour gold for its brilliant shine and ability to bring an elegant, illuminating touch to make-up."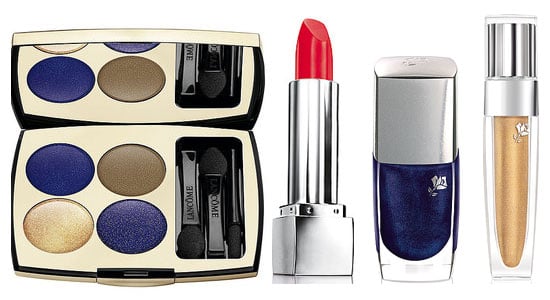 I've been playing with the line for about a couple of weeks now and the two products I'm most excited about are the Palette Libertè in Indigo Royautè (£35), a crazy cool powder shadow quad comprised of two golds (one pale and sparkly and the other a deeper bronze), a metallic blue and another bright blue shade enhanced with gold flecks. The other compact I'm kvelling over is an insanely illuminating face and body powder called Rose Libertè. Whilst at first glance it looks intimidating, it happens to create a beautiful and gentle (I promise) glow.
This is one out-of-the-box collection worth getting excited over. For a closer look at each of the products, plus a description and prices, just read more.
Ink Artliner in Black Carbon Ink: (£19) is a waterproof, smudge-proof cream liner that comes in a cool frosted jar. There's also a new eyeliner brush (£15) to go along with it that was specifically designed by De Mey to help create a more precise line.
Le Vernis in Pure Gold, Indigo Paris, Rouge Panthère: (£14 each) are the three new nail varnishes for Autumn. The two most noteworthy shades are Indigo Paris (bright blue metallic) and Pure Gold (a medium, super glossy, super shimmery gold). The last shade, Rouge Panthère is a fiery crimson older shade of red that has been brought back just for this collection.
Color Fever Matte Lipstick in Red Avant-Garde, Red Paris and Red Libertine: (£17.50 each) are comfortable matte lipsticks thanks to jojoba oil, a true feat in the matte world as some matte lipsticks feel slightly chalky and dry. The three colours are all versions on bold reds, that can be worn alone or blended with a high-shine gloss.
Color Fever Gloss in Pure Gold and Aaron's Red: (£17) are incredible. I love the gold shade as it's so universal and can be worn with virtually any lipstick. The red shade is transparent and gives lips a fullness and liveliness without overpowering them.
Crayon Khôl in Pure Gold and Indigo Paris: (£14.50 each) are two new gold and deep blue eyeliner pencils. The smooth and long-wearabiity makes these a must-have.
Virtuôse Mascara: (£19.50 each) has gotten a little bit of a revamp. This new shade is a gold-sequined indigo topcoat that also curls and lengthens like the original.
Palette Liberté in Indigo Royautè: (£35) is the blue and gold four shadow palette I told you about above also comes packaged in a beautiful white gold case adorned with the signature Lancôme roses printed into the metal.
Palette Liberté in Liberté: (£35) is another powder shadow quad containing a gold shade a black colour with gold sparkles, a medium brown colour and a bone colour. This palette is perfect for any gal any time of the year.
La Rose Liberté: (£32) is a gold powder palette embossed with a gold rose on the top layer. It can be worn as highlighter on our eyes, cheeks or body to a special joueur de vivre. The new Powder Brush (£25) that goes with it is angled, fluffy and feels like heaven on your skin.