Latest in Beauty
Fab Beauty Site: Latest In Beauty
All of you beauty junkies out there are going to love this affordable new website that I've discovered! With the current state of the economy, it's hard to justify spending a fortune on any and every beauty product that makes your heart go pitter patter. That's why when I heard about latestinbeauty.com my ears perked up. The site offers oodles of skincare, makeup, fragrance, hair-care and body product brands, and the items are available in both sample and full sizes so that you are able to "try before you buy!" Here's what you need to know: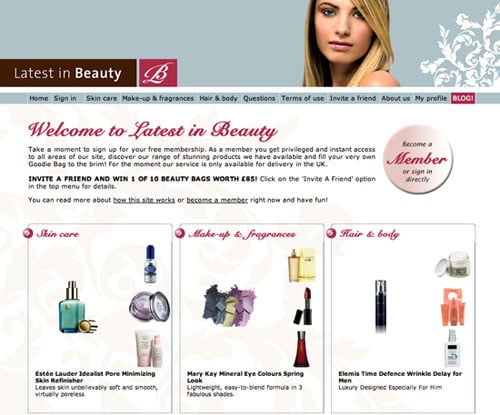 Once you become a member (and yep, it's free to join), you can choose up to three sample-sized products by surfing the site. Next, you text a reference code on your phone which will appear upon checkout. The cost of the text is £1 and in return, your three samples will be shipped out to you within a couple of days.
Also, if you like the sample and you decide to purchase a full-sized product from the site, you automatically become eligible for prizes and discounts in the future. Do you think this is something you'd be excited about checking out?