Latest Plastic Cosmetic Surgery Trend: Botox For Feet Solves High Heel Stiletto Pain
Feet Treat: Botox For Your Soles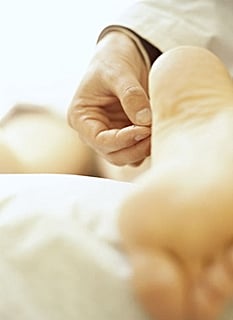 The latest cosmetic surgery buzz in the beauty world isn't the New New Face, nor that men splashing out for botox; this week everyone's talking about the latest breed of injectables that are for your feet, not your face. Botox injections are now being used on the ball of the foot to ease a new condition caused by years of wearing high heels. Apparently this new trend has seen a significant increase in the UK in the last few months.
The cosmetic procedure of injecting botox to iron out wrinkles is now being employed as a supposed cure for "stilettotarsal" as the condition has been dubbed. This happens after years of wearing extremely high heels which cause pain across the ball of the foot. This part of the foot is made of soft tissue and is known as the metatarsal area. This increasingly popular procedure is also known as a "foot filler" according to Marie Claire.
For why women are having this treatment and what it involves just read more.
Botox applied to the foot won't make the skin look any smoother or nicer but it could make your painful heel habit a walk in the park. At the Birkdale Clinic in Crosby, Merseyside, doctors say they have seen a 20% increase in the number of women in their 40s requesting the £295 procedure. Marie Jenkins, patient co-ordinator at the clinic believe the treatment could become as popular as facelifts and boob jobs over the next few years. She told Marie Claire,
"This isn't the type of pain induced by a pair of new shoes but pain after years of teetering on high heels. The balls of the feet take a lot of pounding in high heels but some women refuse to give up them up. The procedure won't make their feet look any better but it will certainly protect the nerves and the soft tissue and make walking in their heels much easier."
This seems like one step too far (excuse the pun) in the use of botox. Although anything that increases your pain threshold is good by me. How about you, what do you think of this new trend?