Le Labo Fragrance Lab
Beauty Byte: Le Labo Oud 27 Comes to London
Both Vogue and WWD have reported about the latest, exciting release from Le Labo Fragrance Lab, and since I hadn't heard of the brand before, all of the buzz perked up my ears and I decided to do some digging. Here's what I found out: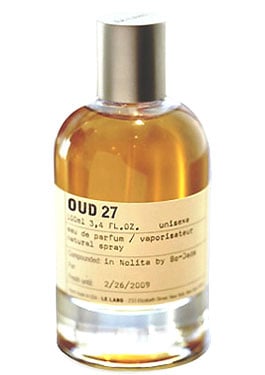 As it turns out, Le Labo is something special. Beginning in 2006, founders Edouard and Fabrice teamed up with some of the world's most renown "noses" (fragrance experts) from Grasse, Paris, New York and Milan to create a line of exceptional scents. Far away from the mass productions we are aquatinted with in the world of pharmacies and department stores, Le Labo brings a unique and certainly high-end quality back into the perfume world.
Oud 27, the most recent launch, contains a rich blend from the Orient that includes agarwood, patchouli, cedar atlas, safran, incense, spicy black pepper, and gaiac, just to name a few of the big notes. In total, there are 27 ingredients, (aha — that's what the number 27 in the title stands for).
In the UK, Le Labo is exclusive to Liberty in London and a bottle will run you between £80- £120. It sounds quite lovely, as I'm a fan of secuctive, Far East scents, however, pepper and patchouli aren't for most girly girls. Do you think you'd be interested in checking out Oud 27 (I love how that rhymes)!