Learn All About Model Laura Love
A Day in the Life of Model Laura Love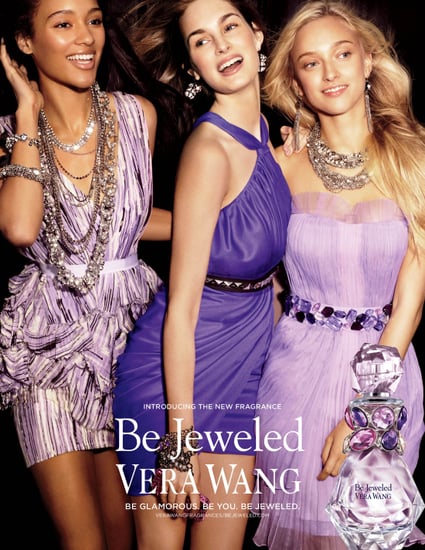 It's easy to imagine that the life of a young model in New York City is glamorous and fun, but there's a healthy dose of unpredictability that goes along with it. That's exactly what Laura Love (above center) is learning, having recently traded her California lifestyle for the hustle and bustle of the Big Apple. "My life is anything but typical lately," she said with a laugh. And a lot of the liveliness has to do with Love's latest work as the face of Vera Wang's new fragrance, Be Jeweled. "My favourite part of the experience was working with the team," she said of the beautiful ad campaign. "We shot in California, which was nice for me because I'm from there."
One of the things that keeps Love focused during the unpredictable days is a rigorous ballet practice schedule. A classically trained ballerina, Love attends class twice a day when she isn't traveling. "It gives me a kind of structure that modeling can't," she says. Her time backstage in the ballet world also gave Love a more practical skill: an above-average grasp on doing her own hair and makeup. Learn Love's beauty tips when you keep reading.
Modeling backstage at Fashion Week and in the pages of glossy magazines has, however, afforded Love a bevy of beauty tips that she uses in her every day life. But don't expect the typical use-your-SPF pointers from Love (although those are important). The one bit of beauty she always sticks by? "I won't leave the house without putting Vaseline on my eyelids. It's a nice finishing touch." When pressed further, Love let out a laugh. "I don't really wear makeup during the day, but I don't like to not wear anything," she says. "I think that it's just a super-natural way to keep your eyes looking awake."
But the most important lesson she's learned, apart from the beauty and fashion, comes from her mother Lisa Love, who just happens to be the West Coast editor of Vogue and Teen Vogue. "She taught me how to say 'no,'" Love explains. "She was a model when she was younger, and it was something she had to learn. But she's always told me to stand up for myself."
When Love does reach for her makeup bag, the focus of her products is always more natural than put-on. After the shower, she smooths on Jao Goe Oil (£32). "It makes my skin feel very hydrated," she says. "It's like a mini spa treatment." She keeps her lips tinted pink and hydrated with By Terry Baume De Rose (£35).
And how about perfume, which has become such a big part of her career lately? "I love perfume," Love says. "It's so nice to catch a smell and be reminded of something. I believe every woman should have a signature scent." And with notes of pomegranate, pink honeysuckle, Australian sandalwood, and pink peony, Vera Wang's fruity floral Be Jeweled may be a top contender for your very own go-to perfume.