Leigh Lezark Beauty Products
Exclusive! Leigh Lezark Dishes On Her Must Have Products!
The Spring 2010 Twenty8Twelve Fashion show was so much fun. Not only were the clothes amazing, but I was able to speak to Alexa Chung about her beauty secrets right after she and FabSugar UK talked fashion. And as if that's not enough, we also got to see Anna Wintour in the front row! But just you wait, because it gets even better. After the show, I even snagged a few seconds with DJ Leigh Lezark where we gabbed about her beauty product must-haves. To my surprise, the beautiful brunette was even more stunning up close and personal.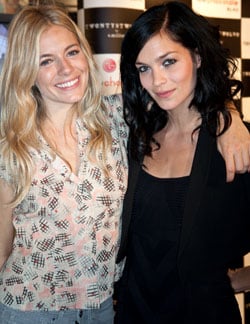 Her blue eyes were piercingly bright, outlined in heavy black liner and her hair was smooth, straight and perfectly in place. Here's the lowdown on what we talked about:


What's the one beaut product you can't live without? I'm obsessed with Charles Worthington Dream Hair Shine Finishing Spray . I love what it does to my hair.
What's your best kept beauty secret? I guess getting plenty of sleep and drinking lots and lots of water to stay hydrated.
What's your favourite beauty brand? Chanel. Definitely Chanel.
I love a girl that mixes high street with designer! What do you think of Leigh's beauty picks?
Photo Courtesy of Mike Tsang