Leighton Denny's Sun-Believable: The Expert Tan
Bella Brand: Sun-Believable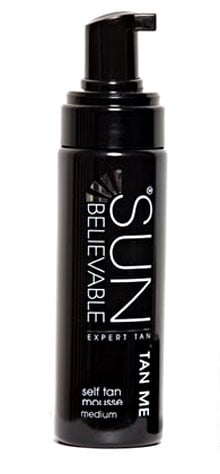 Extra! Extra! After speaking with Leighton Denny at the Peter Pilotto fashion show a couple of weeks ago, I heard straight from the horses mouth all about his revolutionary self tanning product just out this month called Sun-Believable (cute name, right). What makes it so unique is that the DHA tanning ingredient is organically derived from sugar-beet, therefore, it doesn't have any of that icky biscuit scent to it whatsoever. In fact, it's totally odourless!
Sun-Believable wears for 10-14 days and comes in a foamy texture made from a gentle baby shampoo base and costs £30. Also, (and here's a secret you won't want to tell the models), the product works alongside the protein in your skin to create just the right colour to suit your skintone — because the sugar-beet is actually a carbohydrate!
There are three 100ml products available in the Try Me set that include a scrub, a cream and a sef-tanner for £35, or you can buy the full-sized, 200 ml products separately for anywhere between £18 - £30. Patsy Kensit, Geri Halliwell and Myleene Klass are already fans, do you think you'll try Sun-Believable and become one too?