Leighton Meester Beauty
Leighton Dishes Beauty Dirt On Gwyneth and Gossip Girl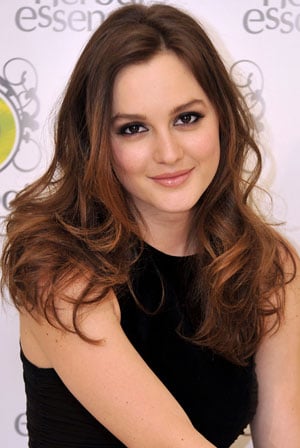 Not only has Leighton Meester taken a dive from acting into singing, but the 24 year old beauty, is also the face of Herbal Essences Hair Products in Spain. She's always one to play with her hair colour, and her makeup styles (as you can see below), and I always wonder where she draws her inspiration from.
The January issue of Cosmopolitan UK hits shelves tomorrow, and besides the exciting beauty section, this month also features an intimate beauty interview with American actress Leighton Meester. She talks about her beauty secrets, hair extensions on the Gossip Girl set, Gwyneth Paltrow without any makeup on and more!
To read some of her key quotes, just read more.
What's the best beauty tip you've ever been given? My mum taught me to treat my skin like I would a silk garment — gently, and not to put any harsh products on it.
What's your everyday makeup routine? It's not mine, it's my makeup artist's. I get serious makeup every day; it's like playing dress-up! But it takes its toll because you're being touched constantly. If I'm not working I'll wear a tinted moisturiser.
Do you and your co-stars compare beauty notes? We talk a lot about hair and makeup on the Gossip Girl set. Even the boys join in. The girls used to wear extensions; now we've grown our own hair.
Are you a wash-and-go girl or do you prefer a blow-dry? Wash and go! When I want to look like I've made an effort, I leave it down. When it's up, people think you don't want to show it off! It's a good trick.
Do you have any hair tips? Spray some hairspray on a blusher brush and run it over the top of your hair to smooth flyaways.
Are any of your characters' styles similar to what you would choose in real life? In the movie Country Strong, I'm like Country Barbie — I have huge red hair with tons of curls, and it's always very 'done'; that's definitely not me, but it was so much fun to wear. In Gossip Girl, Blair's hair is perfect — again, not me — but I wouldn't want it any other way for the character.
Have you ever made a big beauty mistake? I didn't see myself as pretty when I was 18, so I went too far with my makeup. I look back and wish I'd thought I was pretty. I wouldn't have worn so much.
Who are your beauty icons? Audrey Hepburn… And my mum — I used to rummage through all her products. She had really big hair when I was growing up. I loved that look.
Which celebrity looks even hotter in the flesh? Gwyneth Paltrow is flawless. She's beautiful even without any makeup on.