Leonor Greyl Masque Quintessence
Product Review: Leonor Greyl Masque Quintessence
I've been using Leonor Greyl products ever since I interviewed Jessica Stam a few years ago. I love the floral scent of each of the items, along with all of the in-depth instructions. I don't know why, but for some reason, they make me feel like I know a little secret about hair that no one else does. Since using these products make me feel so special, I definitely wanted to tell you about the latest deep conditioner that I've just tried called Masque Quintessence (£67).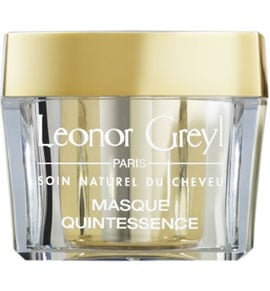 The brand that is known for using all natural ingredients, something pretty special for a hair company. They believe in a long hair washing process to keep the lengths, roots and the scalp healthy, and they take their conditioning seriously.
In fact, Mask Quintessence has been in development for years and contains cupuaçu oil to help hydrate and moisturise and manketti oilis to help hair regenerate and restore a smooth texture. It's intended to help undo the dehydration and damage caused by heat styling, colouring and over-processing.
After just one use, my hair was definitely softer and shinier, and after a few weekly treatments, I noticed that my blow dry's lasted longer. I love the fresh orange and linden scent too. Just apply it liberally to hair before you shampoo and and let it work its magic for about 15 minutes. Then, rinse out, wash and go! The only sticking point, is that it feels quite gooey and stiff in your hair, so it's hard to massage once you've applied it. However, the results are worth it and that doesn't seem to stop celebrities like Paris Hilton, Heidi Klum, Madonna, Lindsay Lohan and Gwen Stefani who are a among the many Masque Quintessence fans!
To find out which London stockists carry Leonor Greyl, just read more.
Michael Charalambous-Nyumba 6-7 Mount Street, 020 7408 1489
Michael John 25 Albemarle Street, 020 7629 6969
Harley Pharmacy 35/37 Old Brompton Road, 020 7589 8788
Bliss Pharmacy 5-6 Marble Arch, 020 772 36116
Bliss Pharmacy 107-109 Gloucester Road, 020 7370 3796