Lily Allen Halloween, Halloween Ideas, 2009 Halloween 2009-10-22 06:00:00
Halloween How-To: Rock Out Like Lily Allen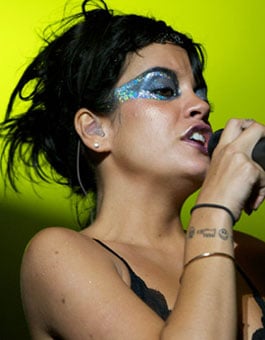 Halloween is the time of year to live out your hair and makeup fantasies. Let loose next Saturday night and let yourself get creative, or simply put a modern spin on the classics by dressing up as a sexy kitty cat, a feisty devil, a fairy princess or a movie or TV witch.
Then you have your icons like Cleopatra and Twiggy, or perhaps you fancy looking like a pop star. Why not channel Amy Winehouse, David Bowie or even Lily Allen?
Lily is constantly pushing the boundaries of typically pretty makeup onstage. Instead she opts for rock-chick glam. Shop this look below and find some great glitter eye makeup, false lashes and purple lipstick!