Little Black Book: St. Tropez Spray Tan
When I asked you back in 2009 if you spray tan, most of you said that you didn't. However, it does seem like many of you use at home self-tanning products. I'm not here to judge, but in my opinion, now that it's Summer and our clothing gets skimpier as the temperatures rise, it looks nice to have a bit of a brown glow as opposed to chalky-white British skin in a sundress.
That's why I decided to book a spray tan before my impending Italian holiday. Not only did it give me an excuse to finally check out a St. Tropez professional treatment, but I've also been able to test the medium to dark at-home self-tanning products. I always use the light colours, so this was quite exciting for me!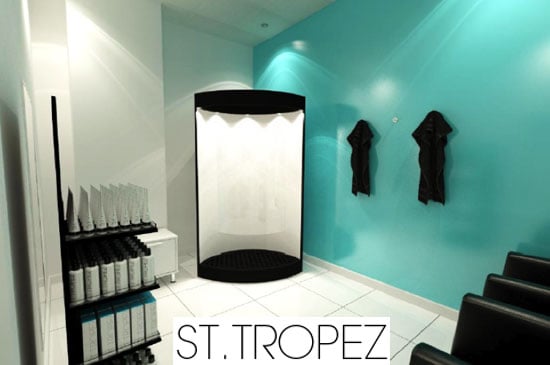 Over in Covent Garden, Abi, "the sprayer" who worked her magic on me, asked me to strip down to my skivvies and step into the fanned dome. She applied blocker to my knees, hands, feet and elbows and applied two coats of the cool guide colour all over my body to be sure no patches of skin were missed. Overall, the experience was quick, painless, and —thanks to the fan — the smell wasn't as overpowering as it can be in other salons.
I only had to wait a couple of minutes before getting dressed and was impressed by how little of the guide colour rubbed off on my clothing. Two days later, I'm quite pleased with the result. The tan did deepen over 12 hours as promised, and when I finally got to take a shower, the colour was nice and brown without any hint of orange — hooray! So now I ask you two years later, if any of you spray tan more often now. If so, would you like to try St. Tropez?