Little Bu Nail Polish for Young Girls Launches
Bella Brand: Little BU
Not only do I love this new safe, fun and adorably packaged nail varnish range for little girls, but I love the story behind how it was created. I first met founder Patricia Dente-Haimes in Paris on a press trip for Chanel where we became fast friends. Soon after, she moved from New York to London, to my delight, and has since gotten married and is due to have her first child early next year. However, for the past two years, Little Bu has been her precious baby, and I am so happy that the finished product is finally here for all the world to enjoy!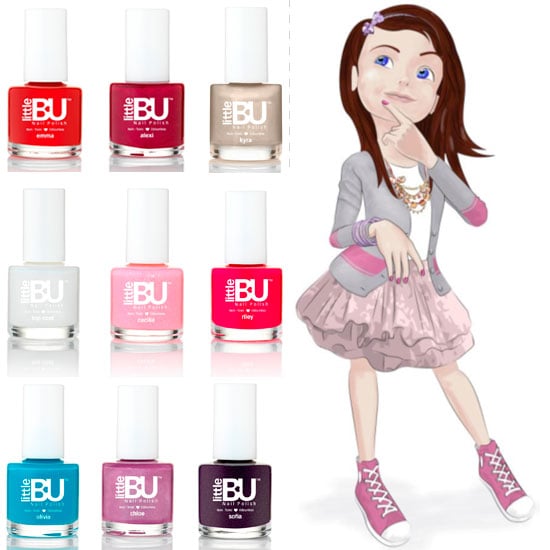 The line contains 8 colours and a topcoat that range from silver to red and are all named after children she knows such as her niece Sophia (a sparkly purple shade). They dry in two minutes and will easily wash out of clothes, carpets and anywhere else the polish should find itself. What makes them even more special and so appropriate for kids, aside from the small bottle designed for kiddie fingers, is the nontoxic, water-based, chemical, odour and cruelty free formula that happens to also be free of DBP, formaldehyde, and toluene. Patricia says,

"Girls love to play with their Mummy's polishes, so Little BU provides a safe, nontoxic, wash-off alternative for little ladies who just want to have fun and express themselves with colour." She also told me, "A great way to make the manicure last longer is to apply one coat and then add a little bit of heat to your nails (say a hairdryer on a low setting) before the second coat and topcoat. It washes off, so don't bathe or scrub your hands right away, but you can certainly get them a little bit wet."
I can't wait to play with all of the colours at her launch party on Saturday at Harrods where they are currently being sold exclusively until January. However, if you don't live in town, you can always buy them online for £9.95 each. What do you think of this specially formulated nail product concept for kids?