Liv Tyler for Givenchy's Latest Fragrance Vig L'Intense
Givenchy's Latest Fragrance Is Inspired By Liv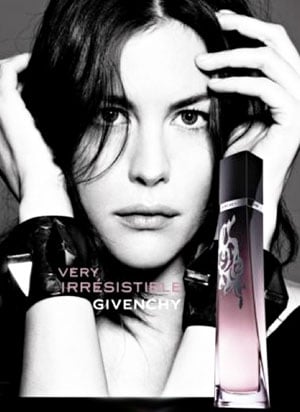 Since 2003, Liv Tyler has been the muse for the Irrésistible fragrance line for Parfums Givenchy, and now, they are getting ready to launch a new Eau de Parfum called Vig L'Intense, or more formally Very Irrésistible Givenchy L'Intense, (but oy — what a mouthful that is)! Inspired by the self-assured, rock-chic and feminine qualities that Liv embodies, the fragrance is "tender, charismatic, adventuresome, and has a couture spirit".
The juice contains notes of Turkish rose, star anise accord, purple plum, patchouli, chypre and white musks, and can be categorised as an elegant, sexy, womanly scent.
I'm definitely intrigued. For one, these black and white ads of Liv are gorgeous and the bottle is equally beautiful. Made from ombrè, plum-coloured glass with a silver motif, the twist-shaped bottle is quite sensual, and combined with the pink elixir, it's both sophisticated and girly at the same time. Vig L'Intense is due out in stores this week. Sre you excited to test it out?