Liz Hurley Lights Up Harrods in Honour Of BCA
Elizabeth Hurley has always been supportive of breast cancer awareness, and especially since she's been an ambassador for Estée Lauder. As part of their The Breast Cancer Awareness Campaign, Liz made an appearance yesterday afternoon at Harrods where she met fans and signed products from the Exclusive Estée Lauder Pink Ribbon Collection in the hopes to draw in a large crowd and help raise awareness (and funds, £7.50 of each purchase to be exact) for the The Breast Cancer Research Foundation.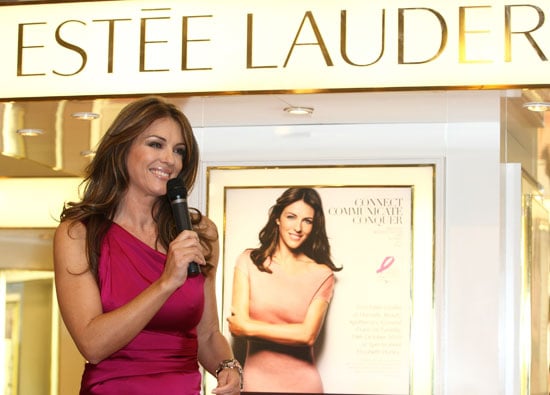 Later, she also was honoured with turning on the switch that lit up the famed department store. However, instead of the usually white lights, last night Harrods turned pink with a special 3D illumination ceremony to show their support of Breast Cancer Awareness. Liz looked lovely on both occasions in a bright pink dress for the daytime and a softer, sparkly pink dress in the evening. Her hair was perfectly coiffed hair and of course, she was wearing one of her favourite Pink Ribbon Lip Glosses!
What BCA products have you bought this month to show your support? For more photos of Elizabeth lighting up Harrods, just read more.