London Fashion Week
Backstage Pass To LFW A/W 2009: Betty Jackson
As expected, the Betty Jackson Fashion Show knew how to appeal to the masses. There was a mix of flowy and tailored pieces in an array of burnt browns, yellows and grays perfect for Autumn. The makeup was classical, with a dark-lined eye, structured cheek and a red lip, however, the colour was applied to the center of the mouth only giving it a modern twist.
Hair was a different story. Far from traditional, a team from Toni and Guy gave the models deep side parts and then lacquered their hair into an extremely glossy and controlled bunnish-chignon inspired from both from Japan and Olive Oil in the movie Popeye.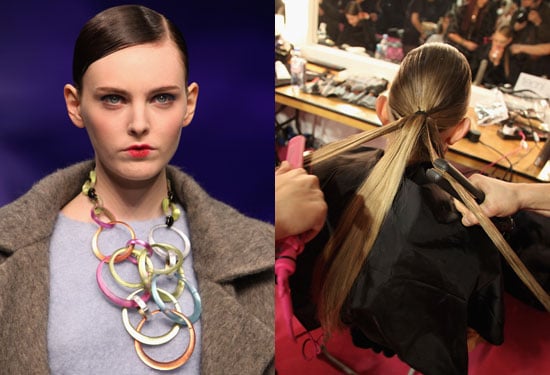 To find out how to re-create this sleek runway hairstyle at home (which I think would look smashing for a night out on the town) and to see additional photos from the show, read more.
STEP 1: Begin by parting hair on the side and then blow-drying it straight.




STEP 2: Pull hair back into a tight ponytail and secure it in the middle of the head. Next, squeeze two giant dollops of label.m Styling Gel into a bowl and paint hair from the roots to where the ponytail begins using a hair tinting brush.




STEP 3: To make sure that hair stays shiny and in place, mist label. m Hairspray. Then, divide the ponytail into sections and use a flat-iron to create a dramatic effect.




STEP 4: Lastly, roll the stick-straight sections into a loopy chignon and fasten with bobby pins.