London Fashion Week Autumn 2010 House of Blue Eyes
Backstage Pass To LFW Autumn 2010: House of Blue Eyes
I wouldn't exactly call this a show, rather, it was more like a presentation for Johnny Blue Eyes' 2010 Autumn collection. Held at the Vauxhaull Fashion Scout in Covent Garden, the backstage area for hair, makeup and dressing was set up for tea and cupcakes and filled with bright colours and music. The theme for the show was love, peace and revolution and the makeup (all done by Illamasqua and lead by the Creative Director herself, Alex Box) reflected that optimistic vibe with bold, gold and colourful makeup.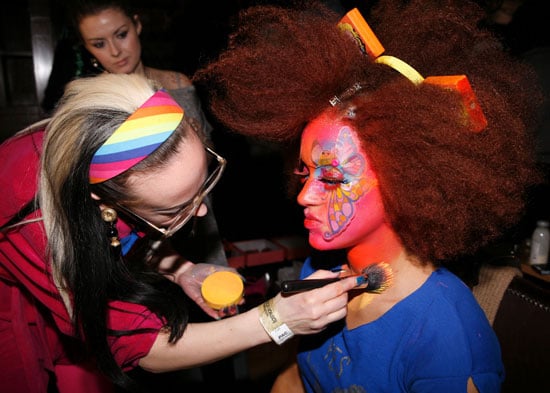 Butterfly stickers were the base of the inspiration, and each of the makeup artists received their own set of wild palettes and were told to just "go for it!" If it sounds like fun, it's because it was! Everyone was singing, and the models, who were scantily clad men and women, danced around once their hair and makeup was completed.
To find out more about the out-of-the-box Illamasqua products used, just read more.
The looks were formulated from glitter, temporary tattoos and lots and lots of bronze and gold liquid metals. Eye shadows were used all over the face and spray paints were spritzed on the arms, legs and chest for total body coverage. While each look was different, one common theme between each of the models was orange eyelashes on the bottom and blue lashes on the top.
Photos courtesy of Merry Brownfield