London Fashion Week Catwalk Collaboration Collection 2000 and PPQ. Peaches Geldof and Agyness Deyn's Favourite Designer
Collection 2000 Goes Colour Crazy with PPQ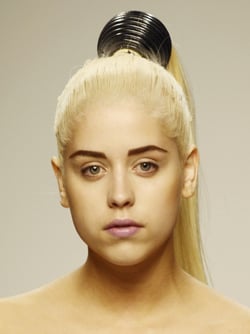 As London Fashion Week draws ever closer, beauty brand Collection 2000 has announced that they're sponsoring the much-anticipated 2009 Spring PPQ show on Sunday 14th September.
The PPQ duo are not only great friends and collaborators with Peaches Geldof but have also caught the eye of style obsessed girls about town Agyness Deyn, Daisy Lowe and Lily Allen. They all made guest appearances alongside Peaches at PPQ's 2008 Autumn/Winter show in February.
The collaboration with Collection 2000 comes as one of the UK's fastest-growing beauty brands gets a makeover. They're unveiling a brand new collection with a focus on trends, fashion-led colours and a fun, irreverent attitude. Collection 2000 has also recently appointed makeup artist Athena Skouvakis as their new creative consultant. Athena will be leading the team of makeup artists at the PPQ show and we're expecting great things.
Amy Moyneaux of PPQ says "Our Spring/Summer 09 show is heavily inspired by paint and layered colours so partnering with a colour confident brand like Collection 2000 for this season is really exciting." She adds "This season is all about developing new boundaries and shapes with colour." Lets hope Athena picks up on the luxe pop chic and inspirational use of colour that's become the hallmark of PPQ's success.