London Fashion Week Makeup 2009-03-03 09:00:00
Backstage Pass To LFW A/W 2009: Avsh Alom Gur
Sneaky me got to take a peek backstage at hair and makeup headquarters of the Avsh Alom Gur Fashion Show last week. Whilst the busy team from Toni & Guy were putting the finishing touches on the models hair, I caught up with head makeup artist Michael Gray.
The inspiration behind this look was edgy with a soft, girly and pretty side. The goal was to create an 80's feel by going heavy on the blusher and the brows, but doing it in a more modern and dainty way. Each girl had a pinky, golden peach on their faces, however, they all had a slightly different blue, purple or pink colours on their eyes, cheeks and brows.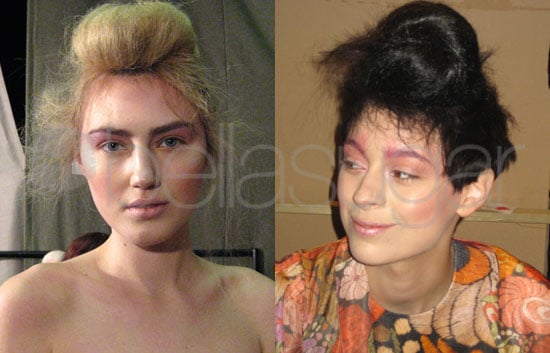 To see more images from the show and to find out which Nars, MAC, Chanel and Shu Uemura products were used, read more.
FACE:Michael began by prepping the skin with moisturiser and then blending in a pale concealer and foundation to their skin. Next, he added a bit of Iridescent Loose Powder in Silver Dusk from MAC all over for sheen. He then added either Orgasm, Deep Throat or Desire powder blush from Nars to their cheekbones.




EYES: Next he applied various eye shadows such as M Rose 160 by Shu Uemura and Himalayas by Nars. The then applied two coats of black mascara before enhancing the eye brows with the same eye shadows to create a dusty, vintage effect.




LIPS: The lips were quite unique. Michael applied Chanel Hydrating Lip Treatment (lip balm) and then dabbed some of Nars Himalays (and iridescent powder eye shadow) on lips too they looked neutral, but edgy.