London Fashion Week, Spring 2009: Inbar Spector
Backstage Pass: Bjork Inspired Braids at Inbar Spector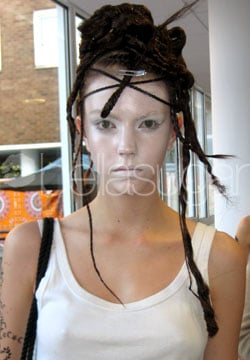 I couldn't have been happier about the way that London Fashion Week ended. The last show (and in my opinion, one of the best) that I went to see was Inbar Spector . The clothing was sexy and fresh and mostly black with a few surprises in baby blue and white. However, what really got me excited was the dynamic and long plaited hair extensions weaved together and secured in a messy nest on the top of the head with a few straggly face-framing braids.
Also, the makeup was different than anything I've ever seen. While it reminded me a little bit of last season's Gareth Pugh Show, sans the blue accents, it was a striking contrast against the collection.
Talented (and friendly to boot) makeup artist Lan Nguyen explained that the geisha white foundation, lips and lashes were inspired than none other than Icelandic singer, Bjork.
Stay tuned for FabSugar UK's exclusive one-on-one interview with Inbar Spector herself on Friday! For now, to find out all about the ultra-pale makeup products used behind the scenes, read more.
FACE: To take all flesh and pink tones out of the skin, Lan began by spreading a thick layer of MAC Pro Full Coverage Foundation in White all over the face.
EYES: Lan began by sweeping a white-coloured eye shadow in Chill all over the eye. She then applied white eyeliner on the inner rims of the eyes followed by two coats of white mascara.
LIPS: The pale pink from Benefit's My People, Your People lip gloss, helped slightly soften and add shine to the white foundation that was already on the lips.
BODY: Lastly, for an edgy, effect, intricate, faux tattoos, were drawn on to the arms of the models.