Luigi Mureno Shares Hairs Tips 2010-03-22 05:00:58
Exclusive! Luigi Mureno Shares Hair Trend Tips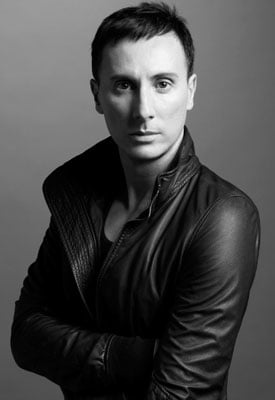 Uber hairstylist Luigi Murenu is one of the biggest names in the business. The Sardinian luminary has worked with everyone from Armani to Gucci, and from Viktor & Rolf to Prada on hair at their catwalk shows, and is the Global Creative Consultant for John Frieda.
He also has a loyal celebrity following, having tended the locks of Madonna on her 2001 Drowned Tour, and subsequently worked with Nicole Kidman, Gwyneth Paltrow, Britney Spears, Scarlett Johansson, Julianne Moore, Charlize Theron and Jennifer Lopez amongst others on their red carpet styles.
I've met him a few times in the past and it's easy to see why he's so popular. He's flamboyant, hilarious, and extremely good natured. What's more, he's incredible at his job! I managed to catch up with Luigi after the latest round of shows to chat fashion, and hair. To see what he said, just read more.


Which shows did you work on this season?: "I worked on Hakaan, Gucci, Pucci, Maxmara, Gianfranco Ferre, Ferragamo, Rick Owens, Viktor and Rolf, Celine, Givenchy and Valentino."

Having worked on the Autumn shows, what hair trends do you see emerging?: "This Autumn we are going to see lots of texture in styling. For instance, at Viktor and Rolf's show in Paris, the hair I created was all about pushing the texture of the hair to look beyond natural. At Givenchy it was about a soft, delicate, touchable texture too. I get my inspiration from many things; books, movies, people, things I see in the street, right through to conversations. It can all trigger a reaction. Even when I'm on holiday I will see the things around me and they create inspiration. Creating beautiful healthy hair is always paramount to me, though. Looks can be influenced by many things but most importantly it's got to be about creating beautiful hair rather, than trendy hair."

What is your favorite part of working on hair for the fashion shows?: "I run on adrenalin, so backstage is when I really come alive. The atmosphere can be crazy but electric aswell. To be part of creating beautiful looks from head to toe in collaboration with an inspiring artistic team is amazing."

You are famous for working with celebrities as well as designers. How does working on celebrity hair differ from working on a show?: "I can arrive two days before a show and need to come up with a creative hair idea quickly. Prior to a show, preparation can take hours. Some of the shows have 50 girls to style. I only work with the best possible assistants and team. I'm like a chorographer with dancers! I teach them the technique and they do it. It can be intense but you take the risk and you do it."

Tell us about your latest celebrity look that you created: "I have just recently worked on a shoot with Madonna where the look we created was inspired by the Avedon picture of Contessa Cristina Paolozzi."
Photo courtesy of Luigi Murenu