Lydia Hearst Models For French Playboy Magazine
Lydia Hearst Models For French Playboy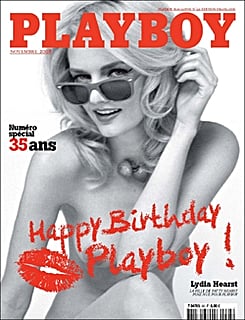 Socialite, model and occasional Gossip Girl actress, Lydia Hearst is just one in the latest line of model beauties to strip for French Playboy. The American is certainly used to showing off her body as she's also the face of the luxury lingerie label Myla. Following in the footsteps of Lily Cole and veteran supermodel Helena Christensen, Lydia features in the magazine's November issue.
Lydia has bagged the cover of the men's publication's special thirty-five year anniversary issue. The model may recently have quit as Page Six's guest columnist but she's certainly staying busy. The black and white cover, which features Lydia peering over the top of some plastic-rimmed sunglasses has a definite Lolita-esque feel to it.
Her skin and figure look typically amazing, but I'm not sure about that flicky black eyeliner. There is something too harsh about it that doesn't quite fit with her sexy yet innocent image here. How about you, what's your opinion of Playboy's choice of Lydia for their cover?