I first heard of M Lab about a year ago on a trip to the States. It launched in 2007 by a company called Milbar Laboratories, who for 25 years have been creating medical grade skincare products for dermatologists and plastic surgeons. The buzz surrounding the brand was that it is a high end, luxury range for mature (over 40) skin, that it wasn't suitable for sensitive skin and that it was created for men.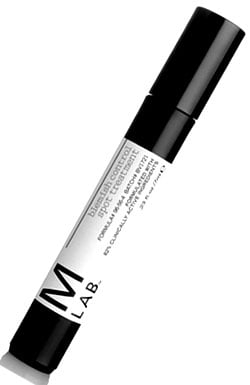 However, after attending a UK event last week, I learned that my preconceived notions were totally false! With the 12 skews in the collection, M Lab is suitable for men and women of all ages with varying skin types. There are currently two complete anti-aging regimens with one being targeted specifically to oily skin.
The big news, however is that a new spot treatment has just launched. Blemish Control Spot Treatment is sold online and at Harrods exclusively in the UK. It sells for £26 and contains 82% of clinically active ingredients (the highest concentration in any MLAB product).
Although expensive, M Lab is proud to have a cult following which include celebrities like Daniel Craig, Dannii and Kylie Minogue, Elton John, Anna Friel, Simon Cowell and Tom Ford.
I'm currently trying out the products for oily skin and will report back my feeback in a few weeks. In the meantime, I can tell you that I'm already addicted to the spot treatment. It's gentle, non-drying and has a pleasant smell which sets it apart from other anti-blemish products. Are you interested in hearing more about MLAB? For images and to hear about their exceptional white glove customer service, read more.
Be warned that the folks at MLAB are all about creating loyal clientele. They'll learn and remember your name and what you've bought in the past to help you with future purchases. They know that their products are expensive and luxurious, therefore they make it a priority to provide unparalelled customer service — or white glove service if you will. Literally every product that gets shipped out is packaged by someone wearing white gloves to keep the sleek black packaging pristine.