Macadamia Professional Ultra Rich Shampoo Conditioner Review
We've Found the Product That'll Rescue Your Sun-Damaged Hair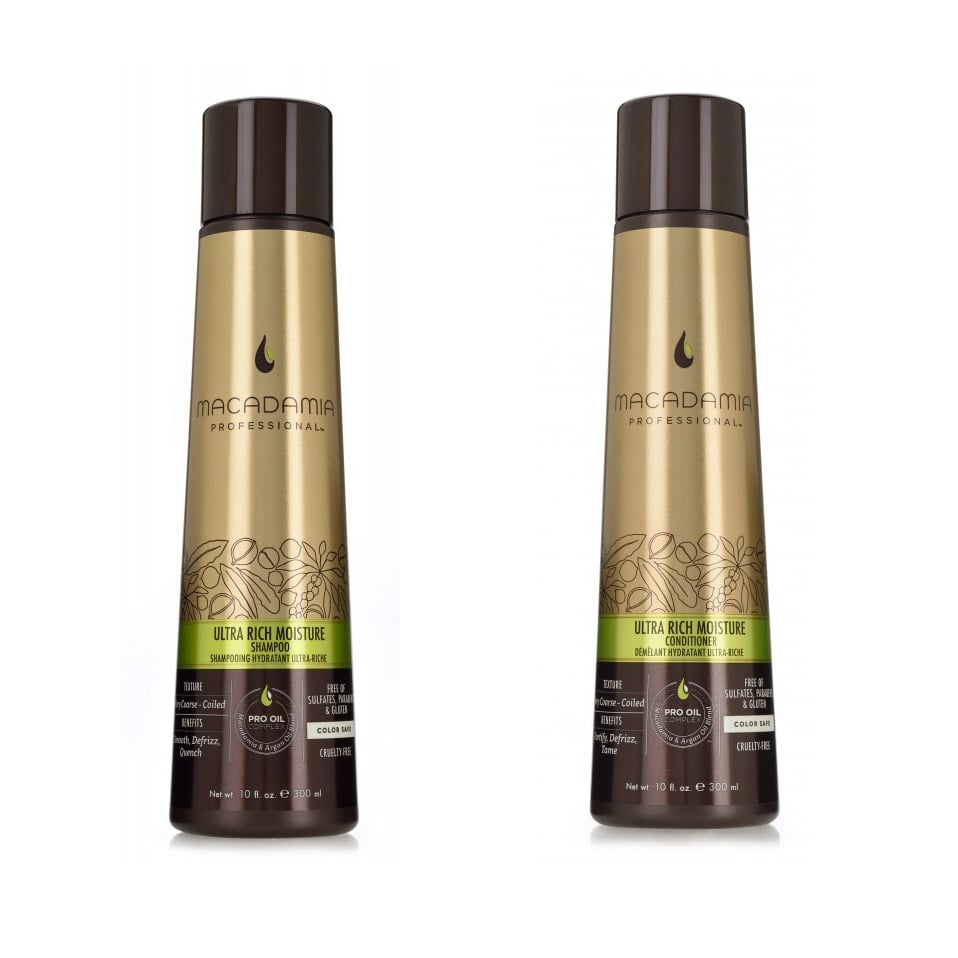 I've been a fan of Macadamia Natural Oil products for a while, so when I heard they were launching a new professional range, I couldn't wait to get my hands on it. The products use a blend of oils (Macadamia, Argan, Avocado, and Mongongo) along with silk amino acids and vitamins to keep hair strong, soft, and hydrated. There are three levels for different hair types: weightless, nourishing, and ultrarich.
Fresh from a week of sun and saltwater damage, I started using the Ultra Rich Moisture Shampoo and Conditioner on my long, highlighted hair. The first time around I was a bit overzealous and used far too much product, and as a result, my hair needed washing again much quicker than usual. From then on, I halved the amount of both the shampoo and conditioner and the results were perfect. My hair was soft and clean, felt moisturised, and stayed frizz free without being too weighed down. This is great news given the cost — a 300ml bottle of shampoo is almost £19 (and the conditioner a few pence more) so to know a little goes a long way does justify purchasing this above a cheaper alternative.
The sweet scent was a surprise; like dark chocolate or caramel, perhaps not the most summery fragrance but there's nothing like flipping your hair and smelling Werther's Originals. It doesn't linger for too long, just enough to receive a few compliments.
On the negative side, the packaging is a bit of a pain, particularly when it comes to the conditioner. Because it's so nourishing, it has a very thick texture. The bottle narrows toward the lid, and the plastic is so thick that squeezing it out with wet hands in the shower can be tricky. I've dropped the conditioner bottle every single time I've used it, but maybe that says more about my clumsiness than anything else?
In terms of ingredients, there are no sulphates or parabens in this range, and while they're not ingredients I personally avoid, if you are concerned about them, this is a solid professional range that doesn't sacrifice results to reduce chemicals.
I also noticed the packaging listed the range as "gluten free." This is new to me in the beauty world, so I consulted a friend with Coeliac disease for her views. In short, she doesn't avoid gluten in beauty products; Coeliac disease comes from ingestion of gluten, so unless you're swallowing the shampoo, you should be fine. But there have been reports of gluten causing skin issues from contact (not just for coeliacs) so for those people it's good to see brands are labelling their products to make shopping easier.
I've now been using these products for a month, and I'm hooked. It's a novelty to need so little conditioner, and I'm happy to find a sulphate-free shampoo that still lathers (even when you know that lather is essentially useless, it still feels great when you're washing). If you're looking for a deeply nourishing range to treat your locks, this could be it, just bear in mind that ultrarich really does mean just that. If your hair is fine or naturally in good condition, go for one of the lighter options instead. This is designed to tackle very dry hair and may weigh down anything else.
Product Credit: For Love & Lemons dress