Maggie Gyllenhaal is BellaSugar UK's Beauty Girl Crush
Beauty Girl Crush: Maggie Gyllenhaal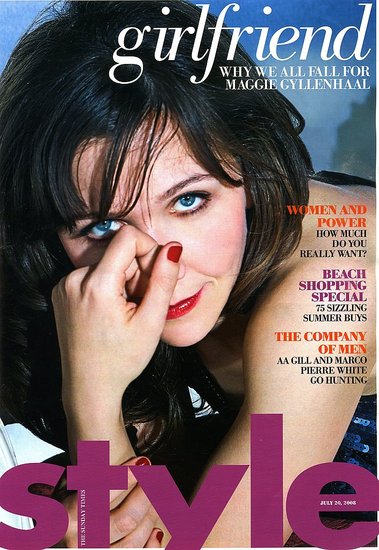 Indie goddess and out-and-out style crush, Maggie Gyllenhaal is one of the few girls who can work a retro makeup look, without looking like she's playing fancy dress with her mother's beauty stash.
From those perfect red lips on the red carpet of the NY premiere of The Dark Knight, to her recent, film siren, photo shoot for Sunday Times Style magazine yesterday – Maggie knows how to work her trademark naive-meets-knowing brand of sex appeal, without making her a girl that other girls despise.
Just think of her portrayal of a self-harming ingenue in black comedy Secretary, or her recent ad campaign for Agent Provocateur last year. She seems equally liked by girls and boys.
I think it's her disarming honesty that makes her so appealing. For why, just read more Maggie's not afraid to look scruffy or to be photographed holding her daughter, looking like a regular mum with tied-back hair and no makeup. She tells Sunday Times Style "It would be doing everyone a disservice to say that I feel good about myself all the time and that I never think I look bad or that my hair looks awful".
Indeed, Maggie has that gorgeous glossy, yet wavy hair, that seems to look picture-perfect on the pages of a magazine, yet you might imagine is a little harder to control without a daily stylist on hand. She tells Style "If you think you've got bad hair, try going on a month-long press tour with it!"
I love the way she's not afraid to experiment with beauty looks. From managing to try multiple hair styles through out the years – yet always looking like herself, to experimenting with kooky, vintage-inspired looks, like an old fashioned velvet clip, on slightly fluffy hair, worn with bluish-red lipstick.
Can't wait to see her bringing a touch of classic cool to the new Batman film, as Rachel Dawes. About time we got a Hollywood blockbuster without a cookie-cutter heroine.