Makeup Artist Barbara Daly Beauty Expert Tips For Looking Younger and Feeling Better. Look Good Feel Better Breast Cancer Charit
Makeup Artist Secrets for Confidence: Barbara Daly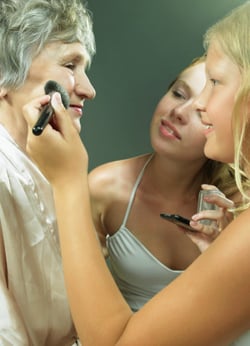 In this month's Psychologies magazine makeup artist Barbara Daly, who is also vice president of the breast cancer charity Look Good Feel Better, shares her top tips for transforming your look.
Through her work with the charity, and after losing her mother and sister-in-law to cancer, Barbara says she's learned the importance of positive thinking, confidence and the transforming power of beauty rituals. Enhancing your appearance can raise your self-esteem, whether you're faced with a serious illness or just trying to feel better about your life.
She shares some expert secrets of applying makeup to look younger and feel better with Psychologies, but for a taster of my favourite tips just read more:
Use a sheer, light-reflective cream eye shadow to add a subtle brightness to lids. Make sure it's applied correctly though, to keep it flattering. Use fingertips to pick up a small amount of colour, stretch your eyelid and then blend with light strokes.
Take a soak in a hot bath before a special event and add a skin-nourishing bath oil. The steam from the bath will help plump up your skin and add a glow to your complexion.
Wear SPF on the face everyday. This is vital.
Developing dry, sensitive skin during chemotherapy can be common. Pamper skin with gentle movements and mild products free of alcohol.