Makeup Artist Tricks For Layering Cream and Powder Blush for Spring Summer 2009 Catwalk Runway Makeup Trend
A Quick Tip For Beautifully Flushed Cheeks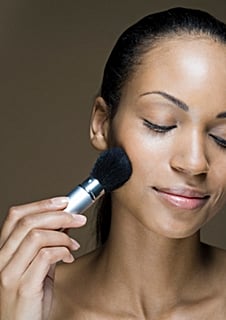 Recently I switched sides on the great cream versus powder blush debate. This summer I got into the habit of swapping my faithful shimmery Bourjois blush for the gorgeous creamy Becca shades. The dewy fresh look that you only seem to get from a cream blush is a hard addiction to break so I was thrilled to hear about the latest backstage makeup artist trick.
Apparently there's now no need to be a die-hard powder fan or a team cream member only. At the 2009 Spring catwalk shows makeup pros applied both to the models' cheeks for a natural flush. It's all about layering different textures for a look that has a three-dimensional effect.


For how to get the perfect just-in-love colour, simply read more.
For a winter ruddiness opt for a pastel blush. Try The Body Shop Sparkle & Shimmer Powder (£15) in Sunset Peach.
Apply the powder blush liberally to cheeks, nose and forehead. On the cheeks take the blush circles wide so they reach the top of your cheekbones and almost out to your ears.
Next, add a cream blush just onto the very apples of the cheeks. Blend it gently with fingertips so as not to rub away the powder blush that's underneath.
Try using the makeup artists' favourite; Becca in Beach Tint (£19), for a flushed look with lasting power.