Makeup at David Koma 2010 London Fashion Week
Backstage Pass To LFW Autumn 2010: David Koma
The much anticipated David Koma fashion show took place on Friday evening in London. Everyone (including myself) was so excited to see what was going to come next from last season's Merit Award winner. If you don't know his name, I'll bet you're more familiar with his work than you realise, as he's the one that Cheryl Cole wore on an episode of The X Factor, and Beyonce wore one of his dresses to the 2009 MTV Europe Music Awards.
The inspiration behind this high fashion makeup style came from the show The Beautiful and the Damned. It was a collaboration between David and lead makeup artist Rachel Wood who used Benefit Cosmetics to create the entire look. The idea was to have the models look drowned. Hair was styled by Toni & Guy to appear wet, faces were intentionally pale and lifeless, and eyes were rimmed with red to seem bruised.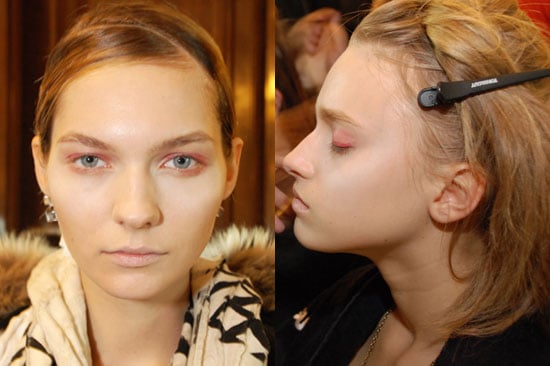 To find out the exact products that Rachel used to create this "topsy turvy look", read more.
FACE: Both Rachel and David wanted to be sure that the skin would look flawless. To achieve this, That Gal, a shimmery primer was used down the center of the face and the rest of the skin was covered in the mattifying Some Kind of Gorgeous Powder. Cheeks were sculpted and contoured by using two different shades of this foundation and then it was all buffed gently together. Lastly, Powderflage, a highlighting powder was added across the eyes, and the cheekbones had a touch of gloss on them for dewy, wet effect.
EYES: To get that dead, bruised and swollen look, eyes were stained with Benetint and then blended for softness. A little bit of High Brow highlighter was added to the inside rims of the eyes. Lashes were curled, but left au naturale.
LIPS: Lastly lips were painted with Erase Paste Concealer and then topped off with a clear high-shine gloss.
Photos Courtesy of Neil Fox for Benefit Cosmetics.