Makeup From the 2010 William Tempest Fashion Show
Backstage Pass To LFW Autumn 2010: William Tempest
Emerging designer William Tempest's show was something that I'd been looking forward to all week long. Last season was incredible, and this year was even better (but, I'll leave it to FabSugarUK to fill you in on his amazing clothing later). However, the beauty style is what I wanted to tell you about since the eye shadow creations are swoon worthy too! The makeup look was created by Lan Nguyen for AOFM using Benefit Cosmetics which she described as,

"Sheer luxury. Think Dubai meets Cleopatra with a geometrical shaped eye and bold lines mixed with metallic lime greens and golds."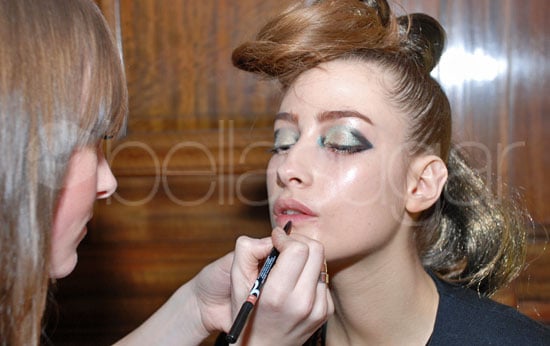 I really loved the way the harsh black liner and shadow was softened by the funky, yet totally wearable chartreuse and gold eye shadows and pale cheek and lip. The blending alone was superb, and sparked all kinds of ideas in my head for how you can pair basic metallics like gold, silver, copper and pewter shades with deeper tones to create a sexy effect.
To find out the exact products used and for application techniques, just read more.
FACE: Hello Flawless, a powder foundation was used all over the face and buffed out with another light layer added on top for a sheer and natural effect.
CHEEKS: Other than adding a peachy-gold liquid highlighter called Moon Beam for dimension and contour, no other colour was added to the face.
EYES: I can't stress enough how cool the eye makeup looked. Black shadow was applied into a "v-shape" on the outer corners of the eyes and black liner was added for even more definition. Then, two new colours (which aren't out just yet but are part of the Spring/Summer collection) in green (Mermaid) and gold (Shamrocker) were blended together to soften the eye.
LIPS: The lip look was sheer and super simple. All that was applied was a pale, bubblegum pink gloss called Life on the A List.
NAILS: I loved this great pinky-red shade from Jessica Nails in Sexy Siren!
Photos courtesy of Benefit Cosmetics