Malika Signature Facial at Westfield London Is Out of This World!
Little Black Book: Malika in Westfield London
I've got to be honest, I've tried many, many facials because of my job, my love of spas and well, pretty much anything that allows me to lie down for an hour of peace and quiet. However, no facial has surprised me as much as the one I received at Malika in Westfield London. People often say that its products are natural and organic, but when head therapist Sejal said that this was 100-percent natural, she wasn't exaggerating one bit!
I walked into the small closet-like room and lied on my back. The first thing Sejal told me was that I was going to get dirty. I didn't really know what she meant, so I just shut my eyes and let her work her magic. Boy was she right about the dirty part. The facial began with an Ayurvedic massage on my face and arms, a technique that she learnt in her hometown of Maharashtra, India. Next, she mashed up fruits like banana, avocado, papaya, kiwi, and milk and applied them to my skin as natural cleanser, mask, and calming treatment. She actually even squeezed an orange over my face (imagine the shock of it) as a natural exfoliant!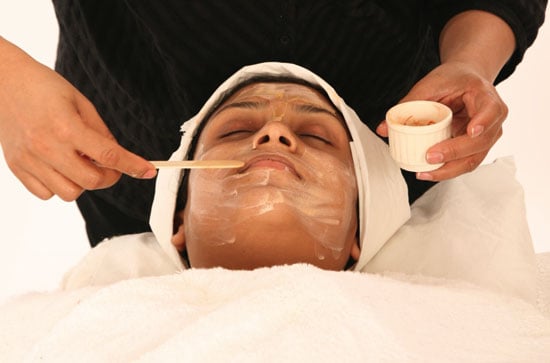 The facial was incredible and ended with her mixing a group of carefully selected herbs for my skin type and letting them penetrate for a few minutes. The result was absolutely glowing, smooth skin that lasted for almost a month if you can believe it. However, I must give credit where credit is due, and the experience would have been nothing without the magical hands of Sejal. She even cracked my back since I was feeling tension in my arm, and once I left the pain completely went away. She has over 15 years experience in the industry and has treated many celebrities at her former job at a posh Mayfair salon.
If you are looking for a unique experience that will help to heal dry skin and detox your complexion (and you don't mind getting a little banana on your neck), I highly recommend the Signature Facial at Malika. It's 75 minutes of bliss for just £80 — enjoy!