Mama Mio Launches Campaign for Body Confidence
Mama Mio is campaigning for self-esteem with the launch of its first ever ad campaign. The company unveiled its new poster this week which features a 42 year old lawyer mother of two with her midriff bare, completely free from airbrushing.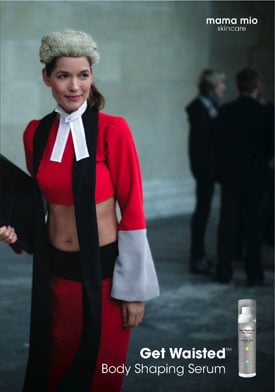 The new campaign is promoting its latest Get Waisted Body Shaper slimming product which helps diminish fat deposits and flatten stomachs. It's linked to 'Look Good . . .Feel Better' a women's cancer charity. (One pound of every Get Waisted bottle sold in Debenhams will go to the organization.)
"It was imperative to us that we did not 'air-brush' our lovely model, Simone. She is a 42 year old mother of two. And this is exactly what she looks like," explained Sian Sutherland, founding partner at the company.
Mama Mio started out as a skincare brand for expectant mothers and babies but has since extended its approach to general beauty. The new campaign is intended to spread a new core message of self-confidence and well being.
There's no doubt the body image is a hot topic these days. Most recently Kelly Osbourne teamed with tanning brand St. Tropez to highlight the issue. Airbrushing too has hit the headlines too, as W Magazine's infamous Demi Moore photo shoot continues to generate coverage. This new ad should add further fuel to the debate!
What do you think of Mama Mio's campaign?