Manchester in Fashion Weekend: Catwalk Autumn Winter Hair Trends
Manchester in Fashion Weekend: Hair Trends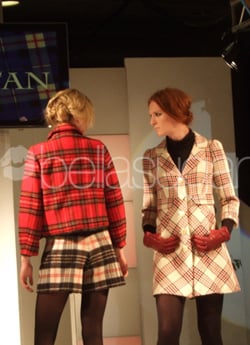 While my partner in crime was busy with fashion, at Manchester Fashion Weekend, I managed to sneak backstage to get the lowdown on some of the fantastic hair looks. Joshua Robinson from Headmasters was the hair maestro behind the modern messy styles and he shared his inspiration for the shows.
For the best looks from the shows and Sean's pick of the products to re-create these styles, simply read more:
How do the hair styles work with the 5 quite different looks?
To be honest, we thought we were going to have to change the looks a couple of times but we found that hair up has worked with every single one of them.
What's your overall theme?
The theme this season is shabby chic. Basically it's very Gucci, very Prada. Makeup wise it's been all about smoky eyes and nude lips and we've basically tried to make the hair compliment that.
There's a lot of up dos, how have you made these modern?
We've been incorporating fish tails into the up dos to keep the look textured, which is the new way of plaiting. It looks as if the models have gone clubbing the night before and woken up with messy hair. Basically what we're doing today is letting people watch the show and then they're coming down stairs and we're showing them how to recreate the looks they've just seen.
Any tips for re-creating this look at home?
Start off with volumiser from technique from L'Oreal. For the catwalk we sprayed about four times more than you'd usually use to make it really messy. Just start on dry hair and keep overloading it with product. Dry it in and overload it again so you start to get a very dirty texture.
Does this work best on day-old, slightly dirty hair?
Yes but you can create that look with products. Once the hair is full of product, just comb through slightly, obviously not taking too much of the kink and messiness out. Try and scrunch the hair at the same time as combing to keep the volume in. The hair should look quite tatty and disheveled.