Marc Jacobs Launches 'Bang' at London's Harvey Nichols!
Marc Jacobs Launches 'Bang' at London's Harvey Nichols!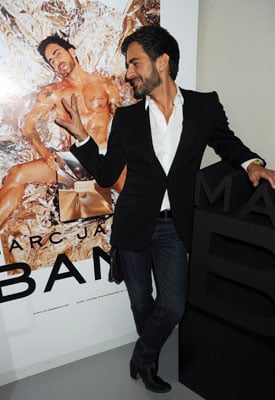 I love a good party, and this one did not disappoint! Marc jacobs was in London last night to celebrate the launch of his latest men's fragrance Bang, and yours truly got to go along.
"I Love London, I don't get here enough!" said Marc as he chatted with celebrity friends Jesus Luz (Madonna's hot model boyf), Scissor Sisters' Jake Shears, Beth Ditto, Daisy Lowe, Mischa Barton, Erin O'Connor, Pixie Lott, Diana Vickers and Henry Holland.
The event was held at London's Harvey Nichols and for the occasion the whole bar was decked out in sculpted foil, echoing the metallic effect on the bottle. (Check out the naked picture of Marc in his saucy campaign for it, shot by friend Juergen Teller.)
Jesus Luz DJ'd on the decks, finishing his set with Madonna's "Let's Get This Started" (cue crazy crowd dancing). He was followed by Jake who introduced some disco tunes to the mix.
To hear more gossip from the party including beauty tips and photos, just read more.
Marc spent most of his time flitting between the dancefloor and the smoking terrace. Meanwhile, Daisy, Beth, Pixie, Mischa and Jaime hung out in the VIP area. (Jaime was ecstatic at having a new lovely man on her arm.)
Beth was on great form, chatting and laughing with friends. She took a moment to share her beauty tips with me: "I was told once as a beauty tip not to do drugs and moisturise. And that's what I stick with. That's all I do! It works!"
The big rumour of the evening was that Madonna would show up, but unfortunately it didn't happen.
And the fragrance? Well, you can click through below to see the bottle. It's quite a spicy affair with notes of aromatic benzoin, vetiver, white moss and patchouli. It's very masculine but delicious. The scent goes on sale at Harvey Nichols this week (£35). Are you a fan of Marc Jacobs?