Margaret Dabbs Sole Spa Opens at Liberty
Last week I was beyond excited to check out the brand-new Sole Spa from Margaret Dabbs that opened last Friday on the lower ground floor of Liberty department store. The sleek white ambiance with a hint of aubergine combined with the low soft-spoken staff really got me in the mood to relax for my first ever 'medical pedicure'.
Sole Spa is one of four foot clinics open in London that Margaret Dabbs is behind. The feet treatments are performed by podiatrists, but there are other experiences to choose from too. There's a salt room where you can purchase a package of five 'powernaps' for (£140). Apparently just being in the salt-infused rooms have a slew of health benefits. Or, you can partake in other things like reflexology or exfoliation via little fishies. That's right, that Japanese dead skin-removal ritual in which Garra Rufa Fish feed off of you even have a home in the lobby of the spa. And boy George do these fellas have rights. The water is changed daily, along with the fish (so they are not overworked) and no one is allowed to put their feet in the water without being cleaned and inspected first.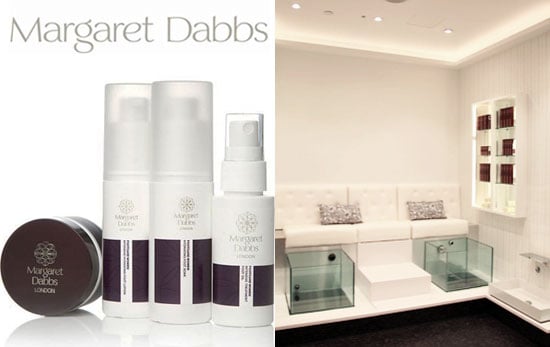 Margaret also has a few new products to go along with her new spa, and this little Margaret Dabbs 4 Piece Discovery Kit (£19.83) makes for a fabulous Christmas gift for you or someone special. Her hero product is the Intensive Hydrating Foot Lotion that is seriously to die for! Did you know that the skin on your feet is 15 times thicker than on the rest of your body? Infused with Emu oil (also a key ingredient in the amazing dry oil) the foot lotion has the most amazing lemon scent and it absorbs quickly. I really can't say enough good things about it.
I had a wonderful experience and would recommend a pedi or a powernap for that matter to anyone looking for a little bit of pampering in central London. Check out photos from inside the spa below and let me know if you're interested in checking it out for yourself.