Mattijis Makeup
Backstage Pass To LFW Spring 2010: Mattijis
On Friday afternoon, the buzz backstage at the Mattijis van Bergen show all about a creating a fun loving, sexy and Summery feel. Hair was pulled back and teased in the front to create a kind of frizzy, wind-blown effect, whilst makeup was controlled yet luminous using toned down metallics. My pal, the friendly makeup artist Rachel Wood said,

"Because the designer is using copper and bronze jewellery, I wanted to complement the look and accent the eyes with that same colour scheme. The goal for this face was to create something ethereal, summery and light."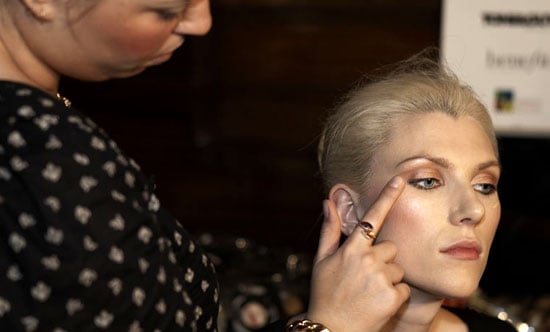 As Benefit Cosmetics was the official makeup sponsor of the show, all of the products used were theirs, and Jessica Nails used a light coloured nudey-pink shade on each of the models. To see more photos from backstage, and for a list of all of the colours that Rachel used to create this gorgeous makeup look, just read more.