Melted Makeup
Bellisima! Skindinavia Solves Summer Makeup Meltdowns
Aye karumba! How many times have you had to bin your makeup (usually your lipstick) after a day at the the park, the beach or leaving it in your car on a hot Summer day? The waxy colour melts and there's nothing left but a big ole mess when you open up the cap. That's why we have Skindinavia to thank for inventing such a cool new preventative product.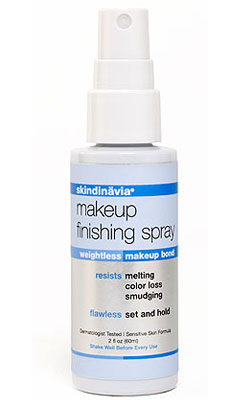 Whilst their Makeup Finishing Spray doesn't contain a mini fan that you can attach to your product (no folks, you just need to be smart about storing your beauty goods in hot spots), they have however created a mist that lowers the temperature of your makeup on your skin so that it doesn't slide off of your face!
It works by delivering nano spheres in a slow release mode to break apart clumps (from sweating) whilst absorbing excess water and air pockets. At the same time, it lowers the makeup surface temperature by ten degrees fahrenheit (within 30 minutes of application), which helps stop the melting and fading!
The spray costs $29 (approximately £19) and they ship to the UK. Now, if melting making isn't your problem, rather you've just damaged your lipstick, my buddy Bella US has an easy DIY guide to repairing broken lipstick at home.