Michael Kors Very Hollywood Makeup Collection
Michael Kors Very Hollywood Makeup is Very Fabulous
With it being awards season right now, it's hard not to envy the fabulous stars who get to doll themselves up from head to and walk the red carpet looking superfine. But with the launch of Michael Kors' makeup collaboration with Esteè Lauder (they also launched his fragrance together), you get to at least look the part of glamazon in the comport of your very own home. According to Kors,

"Hollywood is the birthplace of fantasy and dreams. The inspiration for the Estée Lauder Michael Kors Very Hollywood Color Collection is iconic Hollywood glamour, both past and present, interpreted for everyday life. Nobody understands modern glamour and luxury like Aerin Lauder and the Estée Lauder brand, which is what this collection is all about."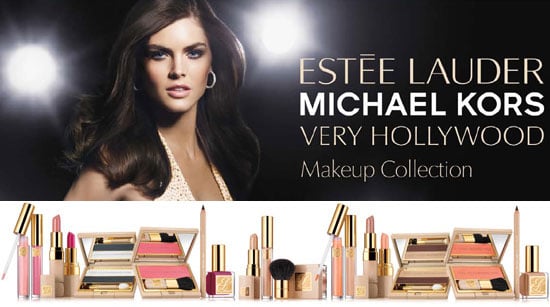 The limited-edition colour collection has just launched yesterday and is part of the Spring 2010 initiative. It's comprised of two different looks for different skin tones, but with a show stopping effect in mind for both versions. The first, Bel Air Beige contains California browns and corals on the eyes, cheeks and lips whilst Rodeo Pink is made up of brighter pinks and a more defined nail and eye (which you can see modeled on Hilary Rhoda). Lastly, there's a gold touch group of complementary goodies too that can be worn with either of the looks.
For a full list of products in the Estée Lauder Michael Kors Very Hollywood Colour Collection including prices, read more.
The Bel Air Beige Look Includes:
Powder Blush in Sunset Coral: (£23)
Powder Eyeshadow Duo in Blonde Mink: (£22)
Creamy Eye Pencil in Sepia: (£15)
Lip Sheen Lipstick SPF 15 in Honey Blonde: (£17)
Lip Sheen Lipstick SPF 15 in Starlet Peach: (£17)
Lip Gloss in Honey Blonde: (£16)
Lip Gloss in Starlet Peach: (£16)
Nail Lacquer in Hollywood Gold: (£12)
The Rodeo Pink Look Includes:
Powder Blush in Sunset Pink: (£23)
Powder Eyeshadow Duo in Night Star: (£22)
Creamy Eye Pencil in Film Noir: (£15)
Lip Sheen Lipstick SPF 15 in Bungalow Pink: (£17)
Lip Sheen Lipstick SPF 15 in Starlet Rose: (£17)
Lip Gloss in Bungalow Pink: (£16)
Lip Gloss in Starlet Rose: (£16)
Nail Lacquer in Bungalow Pink: (£12)
Complementary Products for Face and Lips:
Shimmering Loose Powder: (£26)
Lip Sheen SPF 15 in Hollywood Gold: (£17)
Lip Gloss in Hollywood Gold: (£16)
Face Brush: (£21)