Michelle Peck Madonna's Facialist, Celebrity Facialist
Intraceuticals Launches Rejuvenate Daily Serum
A year and a half ago I did a wonderful phone interview with celebrity facialist Michelle Peck. And when I say wonderful, it wasn't just your run of the mill chat, we talked for some time about beauty, skin, living abroad and lots of fun tangents about life. You see, not only does Michelle work closely with Madonna, Naomi Campbell, John Galliano and many, many more, but the journey that she's taken to get to where she is now is so poignant and interesting.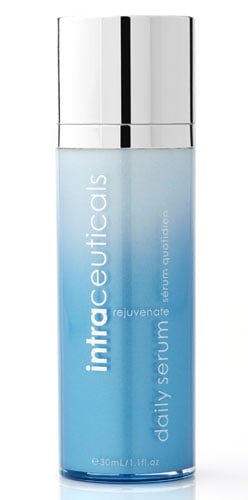 So, you can imagine my delight when the phone rang, and it was Michelle's PR saying that she was in town and wanted to talk whilst she gave me a treatment!
The time flew as I lay down and Michelle worked her magic with her hyperbaric chamber that pushed 95% hyaluronic acid along with oxygen and green tea into my skin. It was relaxing and I could instantly feel my face tightening. Halfway through, we stopped to check out the side of my face that was treated compared to the other side that wasn't, and the difference was significant. My cheekbones were totally contoured and my skin more taught and supple.
What's even more exciting than getting these intense and instant lifting facials, is that there's a new product out that you can use in between facials or on your own to help your skin stay looking red carpet ready. It's called Rejuvenate Daily Serum (£192.95) and it contains hyaluronic complex, Vitamin A, Vitamin C, Vitamin E, panthenol, squalane and green tea. It works to promote the natural collagen and elastin already in your skin to help with texture and elasticity.
Apply it under your cream and your makeup will go on with ease. I've been using it for about two weeks now (post-treatment) and I've noticed that my face looks and feels softer and smoother. I realize that the treatments are quite costly, as is the serum, but if you're looking to splurge on on treatment and then invest in the product, I think you'll be quite happy with the results. Also, you don't have to meet Michelle for £325 a pop, you can also be treated by one her of trained therapists for £150 a session. Find out where to go in the UK here!