Milan Fashion Week Spring 2009, Gucci Catwalk Runway Show. Model Photos and Beauty Hair Trends
Milan Fashion Week, Spring 2009: Gucci Blue Eyes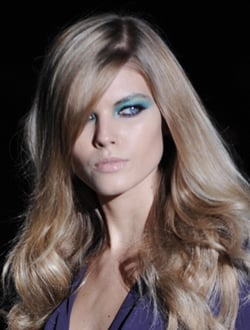 There was a definite femme fatale mood at Gucci's Spring/Summer 2009 show in Milan. Frida Giannini didn't put a foot wrong with asymmetric cuts, leafy prints and rich-girl-on-safari taupe creations. Fab US has plenty to say about the clothes, while I was more concerned with some of the most beautiful hair and makeup looks I've seen on the runway for a while now.
The sleek, early 70's hair combined with bright washes of electric blue and aquatic green eyeshadow, reaching right up to the brows, reminded me of Tom Ford's 1997 Gucci girls with their high-voltage sex appeal and swishy manes. This time around Frida's take on the look is decidedly more feminine with the emphasis on the preliminary seduction, rather than the main act.
For the lowdown on the beauty looks, plus all the Gucci catwalk photos, just read more.
The bold eyeshadow colours looked fresh with minimal black eyeliner and mascara. The base was kept light and there was little, if any, blush. The aquamarine shadow, which was used on the models in varying shades of baby blue to sea green, with a hint of yellow below the brows, had an almost cartoon quality to it making the girls' eyes look super-wide.
Lips were kept nude, but ultra glossy for a polished appeal. Meanwhile, the hair was deliciously covetable. Sleek and shiny yet with plenty of bounce and movement, it was the perfect blow-dry, often requested in salons around the world, seldom realised. Side partings that left the hair falling provocatively over one eye combined with coiffed, loose waves were pure Veronica Lake.
.