Mimosa Nail Polish from Chanel
Will You Wear Chanel's Latest Nail Shade in Mimosa?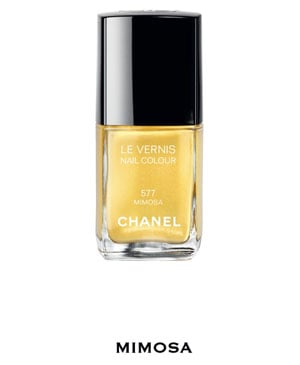 Pictures are out, and so I must talk about the latest 'it' lacquer from Chanel called Le Vernis Nail Colour in Mimosa that is set to launch this April as part of the Spring 2011 collection.
It's bright, sexy, daring and something we've seen on A-list stars like Rihanna, Katy Perry and even Natalie Portman in the past couple of Spring/Summers in shiny opaques. However, this yellow shade is more like the bubbly it's named after (in the UK, we also call this orange juice, champy mix a buck's fizz) as it contains flecks of green and gold shimmer too. I'm excited for a Sunday brunch mimosa cocktail wearing Chanel Mimosa — how about you?