Moschino Cheap & Chic Hair Spring 2011 Milan Fashion Week
Messy Hair at Moschino Cheap & Chic Spring 2011 in Milan
Sadly, I wasn't able to fly the coup and attend Milan Fashion Week in person, but my little Italian elves (and by elves, I mean the folks over at Pantene), kept their eyes and ears open for me. On Saturday, they were able to pull out all the stops at the Moschino Cheap & Chic show and report back on the fresh and fabulous hair that perfectly suited the clothing. The leader of the hairstyling pack, Sam McKnight said,

"The Moschino Cheap & Chic girl has this crazy, young, colourful vibe. She just loves to have fun and is fresh and energetic, which comes through in the Moschino Cheap & Chic hair look for SS11. The style is loose buns all tied and twisted up with beautiful bright silk scarves."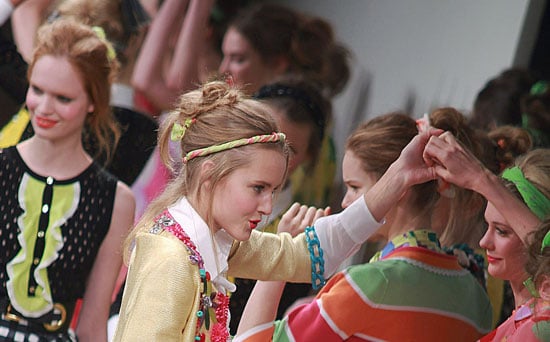 To find out which Pantene products were used and how you can re-create this look at home, just read more.
Step 1: Sam suggests that you begin the process by washing and conditioning your hair using Pantene Pro-V Aqua Light Shampoo and Conditioner so that you have a great base to work from. Then, whilst hair is still wet, apply a palmful of Pantene Pro-V Volume & Body Mousse from the roots to the ends.
Step 2: Blow dry hair using a large round brush and concentrate on building volume by lifting hair vertically from the head and pulling the brush taught to create texture at the crown. Another helpful trick is to back-comb (aka tease) the crown of your hair for extra oomph.
Step 3: Next, create a ponytail and secure hair with an elastic band a couple of inches away from the head, so that the hair hangs loosely. Twist the ends of the ponytail into a bun and pin it so that it stays in place but has a careless look to it.
Step 4: As a finishing touch, twist your favourite scarf into a rope and either wind it around your head like an Alice-band, or coil it around your bun an pull out a few wispy strands to create a "soft, light flyaway style."